William Coscolluela is a renowned architect with more than 50 years of experience since the establishment of his own architectural firm, the W.V. Coscolluela & Associates in 1957. With works like RCBC Plaza, SM North EDSA, the Orchard Golf and Country Club, Robinsons Galleria, Tagaytay Highlands Family Clubhouse, and the World Trade Center in Pasay, W.V. Coscolluela & Associates (WVCA) has helped changed the Philippines' architectural landscape with these numerous projects.
Recently, WVCA's architectural practice also stepped up as their firm embraced green architecture (read related link), an environment-friendly practice that aims to minimize use of non-renewable and polluting materials, increase efficiency in the use of energy such as water and electricity, and reduce impact on human health and its surrounding environment, to name a few.
"It's a trend because if you read a lot of books and what the people are doing outside, it's really green…I think there's a need. You try to diminish the carbon footprint," William said.
"In our projects, we try to make it green, if possible. But people are afraid of being green because they have the perception that it is expensive. I don't think there is a great difference between a green and non-green building in terms of cost. In the long run, you can get back that investment. On electricity alone, for intense, you can save on electricity by about 20-25%."
Recently, one of WVCA's projects have been awarded internationally for their green design and construction. Zuellig Building, situated at the intersection of Makati avenue and Paseo de Roxas in Makati City, was awarded a Gold certification under the Leadership for Energy and Environmental Design (LEED) of the U.S. Green Building Council, an organization dedicated to sustainable building design and construction.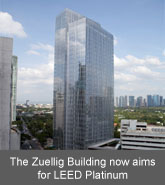 Another project, which is slated to open this May, is the SM Aura Premiere in Taguig. A joint venture with SM Prime Holdings, Aura is the country's first pre-certified LEED Gold retail establishment and the country's first joint commercial and civic use building. It will feature a convention center, various retail stores, a performing arts theater and offices as well.
According to William, both projects used materials that are green and non-toxic. The buildings were also designed to be energy efficient, with the aim to lessen the carbon footprint that contributes to global warming.
Moreover, according to William, there is an increased awareness in the green movement and there are people trying to convince all architects to help. "I recently attended a forum headed by the American Chamber and it was mentioned that there is a big increase in buildings applying for green accreditation since a few years back up to now. A big jump in fact and there will be more to come," added architect Gil Coscolluela, Wiliam's son and one of the newly appointed senior partners of their firm.
In a round table discussion with the media on April 30, William proudly introduced his twin sons Architects Gil and Gary as senior partners in the firm.
"As their father and as a founder of a firm that has been designing and building for over 50 years, I am especially proud to see them in these positions of leadership. They have both produced exceptional work as associate partners of the firm over the years," William Coscolluela said.
"It is the perfect time for them to be in the center of our ongoing projects and help me carry them out," he added.
Gary and Gil both said that their design philosophy was greatly influenced by their father. Having made this step as well as the firm's recent accomplishments, William envisions more green projects and designs.
"Following our LEED certification experience with the Zuellig Building, we will definitely push for more environment-friendly practices and greener design," William said.