In the future, concrete jungles will be less concrete and more jungle—or at least more green, based on the global trend towards more sustainable, environmentally friendly architecture.
"I think ganoon ang direction eh. Singapore, by 2030, everything, all the buildings will be green. Now, they are almost there. Sa Philippines, nag-iistart pa lang tayo," architect William Coscolluela said during an interview on April 30 at the Palisades Building in Makati.
And with this vision, Coscolluela's firm is pursuing greener design.
Its recent project, the Leadership in Energy and Environmental Design (LEED)-certified Zuellig Building in Makati, may look all glass, but there's more to it than meets the eye.
"You see a glass building, you say it's hot. But this one is different," Coscolluela said, explaining that the double glaze, Low-E glass doesn't allow heat to enter. This is one of the many energy-efficient features of the Philippines' first high-rise project registered with the US Green Building Council for a Gold pre-certification in LEED.
"Kasi sa LEED ang main purpose is to minimize the use of energy, para 'yung carbon footprint will be less. That affects global warming… buildings are the contributor of carbon in the environment because of the electricity use of the building," he said.
Apart from being environment-friendly, the building is beautiful, with the glass reflecting the sky in its many moods. The ceramic frits in the glass are in a bamboo design—"a very local look," said Coscolluela.
"It's something different," he said of the building, which won the Father Neri Satur Award 2012 for Environmental Heroism.
Another point in the green building's favor, said Coscolluela, is the health benefit for those who work in it. "It's very healthy. Kasi walang toxic. During construction, contractors see to it na hindi sila nagpo-pollute ng environment in terms of dust, noise, and light," he said.
Another green project the firm is working on is the SM Aura Premiere in Bonifacio Global City, which has a large green roof. There is also the Unilab Corporate Center in Mandaluyong City. Both projects are pre-certified LEED Gold, but Coscolluela explains that there are many kinds of green accreditation.
"Old buildings can be retrofitted to make it green. Makati has a committee studying the greening of the city. San Juan has already started," he said.
In Iloilo, Coscolluela's home province, the firm is working on the Iloilo Convention Center, designed after the paraw boats that sail between Iloilo City and the nearby island of Guimaras. Coscolluela said they planned to use local materials for the building, such as Iloilo stone, and a green wall of local plants.
Coscolluela believes it is important to keep up with the times. "Marami na ngayong mga medyo conservative as well as modern buildings. I think it's good to be, kung anong kailangan ng owner," he said.
Greater efficiency in building insulation is one of the options recommended by the United Nations' panel of climate experts to combat climate change.
Last year, scientists warned of the near-irreversible effects of greenhouse gas emissions on global climate, such as the melting of polar ice sheets and the loss of rainforests. Increased CO2 in the atmosphere also causes ocean acidification, which threatens coral reef development. This could lead to the extinction of some species within decades, as well as to an increase in the number of predators.
It started with drawing
Coscolluela, who always liked to draw, was convinced by his father to take up architecture in college. "He used to work with the engineering office, and he saw an architect friend na lucrative 'yung kanyang practice. Sabi niya, 'I think you should take up architecture.' So I took up architecture," said Coscolluela, who graduated from Mapua Institute of Technology with the President's Gold Medal for Architecture in 1956.
After taking the board exam in 1958, he immediately went into practice. He did everything, drafting on the dining table and working in the garage.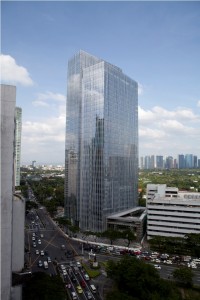 Eventually, he got a cousin to do drafting work for him, and was later able to get two more draftsmen. "Hard work, and opportunity. From the houses, you go to the buildings. Have your small office, one draftsman," he said, describing how he built his career.
Over the past five decades or so, the firm has built around 150 projects, from commercial and industrial buildings to hotels and country clubs.
Even people who know nothing about architecture have most likely experienced one of Coscolluela's designs, such as SM North EDSA, SM Megamall, and Robinson's Galleria.
Not far from the tree
Today, the firm employs some 85 people, including Coscolluela's twin sons Gary and Gil, who have just been appointed full partners in William V. Coscolluela and Associates.
"We have all basically the same design principles. Longevity and quality," said Gil, who studied architecture at the University of the Philippines, Diliman.
"It just becomes a little different in terms of treatment, in terms of design later on… you put your personal touches, that's when it becomes a little more different," he said.
Coscolluela said his sons decided to go into architecture on their own. "Actually that's the irony. I wanted to have some help, and luckily they decided to be architects. It's good, na may katulong," he said, explaining that collaboration is common in the profession. "Maganda 'yun kasi they get more jobs, they help each other," he said.
Gil shared that the constant exposure led to their decision to follow in their father's footsteps. "There's actually a saying, the apple doesn't fall far from the tree. I guess that's basically what happened," he said.
Meanwhile, Gary said most of his design philosophy comes from his father. "We learn a lot from him… at the same time it's also developing as time goes. It's very difficult if you just stick on one aspect of design. If you get different clients who want different designs, like if they want this, they want that. Somehow you have to be able to blend and satisfy them as well," he said.
Coscolluela said the firm tries to convince its clients to go green. According to Gil, success rates are increasing slowly. Their clients include business tycoons John Gokongwei, Henry Sy, and Alfonso Yuchengco. "We are lucky to work with them," said Coscolluela, who has a reputation of being the "architect to the taipans."
"But people are afraid of being green because they said it's expensive. There is a difference between a green and non-green building in terms of cost, but hindi naman masyado. In the long run, you can get back that investment," the elder Coscolluela said, noting that being green can save about 20 to 25 percent on electricity.
He added that the government should provide incentives for green businesses, such as the current practice in San Juan where green projects are allowed more floor area ratio (FAR). "More business for you. Kikita ka sa extra FAR. If you are green, they give you more," Coscolluela said. — KG/BM, GMA News